Years in league: 1995
Owner: Fred Smith
Stadium: Liberty Bowl (63,000)
Colors: Forest Green, Maroon, Gold
Overall Regular Season Record: 9-9
Overall Playoff Record: 0-0


Yearly Standings and Average Home Attendance
1995:
9-9 (14,550)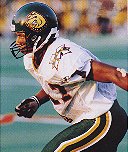 The Mad Dogs were owned by the man who also owned Federal Express and coached by Pepper Rodgers, who had also coached at UCLA and the Memphis Showboats of the USFL. While Rodgers was a likeable man, he often made uncomplimentary remarks about the league.
The Mad Dogs tried to copy Baltimore's blueprint for success in the CFL by hiring Adam Rita, a former CFL head coach as their offensive coordinator. They tried to sign CFL veteran QB Matt Dunigan, who signed with Birmingham & instead signed Damon Allen as their QB. Other notable players on offense included SB Eddie Brown and former NFL kicker Donald Igwebuike. However, the MadDogs were not known for their offense. The Mad Dogs did have a strong defense, with players like ends Tim Cofield and Rodney Harding.
The Liberty Bowl was also not a CFL regulation-length field, the end zones being only 15 yards long instead of 20.