Years in league: 1994-1995
Owner: Bernard Glieberman
Stadium: Independence Stadium (40,000)
Colors: Purple, Orange, Silver and Black
Overall Regular Season Record: 8-28
Overall Playoff Record: 0-0


Yearly Standings and Average Home Attendance
1994:
3-15 (17,871)
1995:
5-13 (14,359)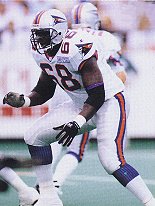 Bernard Glieberman, a Detroit real estate developer and his son Lonnie had owned the Ottawa Rough Riders and in 1994, were allowed to sell the team and then purchase the expansion franchise that ultimately wound up in Shreveport. They were also allowed to take a handful of Ottawa players with them, including QB Terrence Jones.
However, the Pirates were another American CFL team that ultimately proved to be unsuccesful on the field. Their first victory didn't come until the 15th week of their initial season, and in 1995, all their victories were against Canadian teams.
Their first coach, John Huard got fired during the team's first training camp, due to conflicts with the athletic training staff and other problems. Training camp was no picnic for the players either, as they were housed on the second floor of the Lousiana State Fair's livestock barn. Huard was replaced by Forrest Gregg, who had coached previously both in the NFL and CFL. KR Freeman Baysinger and ertswhile NFL QB Billy Joe Tolliver were among the Pirates' players.
Noted tele-evangelist Jimmy Swaggart was among the Pirates' fans. He had season tickets for both seasons & would drive over from Baton Rouge to see them play.
After the 1995 season, the Gliebermans tried to move the team to Norfolk, Virginia but the deal fell through. Notable about the move to Virginia was "the Great Tucker Caper" when the City of Shreveport tried to seize Bernard Glieberman's 1948 Tucker for defaulting on debts related to the Pirates' lease at Independence Stadium. Glieberman's lawyer, Mark Gilliam, tried to escape with the car and hide the vintage auto, but he ran out of gas along the way. The police spotted him, and took the car back to the museum where it was being stored until the case could be settled.
The Gliebermans and Gregg later worked on establishing a new spring football league called the All-American Football League, but their efforts were for naught.