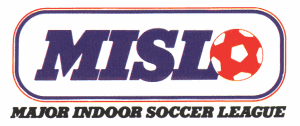 The MISL: A Look Back
The Major Indoor Soccer League, known in its last couple of seasons as the Major Soccer League, emerged in 1978, at the height of soccer's popularity in the United States. With the outdoor North American Soccer League making great strides to establish the game in America, an intrepid group of businessmen and arena owners formed an indoor circuit to take advantage of the surge.
They created a new, high-scoring game which featured quick, end-to-end action, blunting much of the criticism of soccer as a slow, methodical game which Americans would not embrace. Boards surrounded the field as in hockey, creating crazy caroms off the walls... and plenty of goals.
At times during the 1980s, a few MISL teams drew more teams to their games than some NBA and NHL franchises. Games were carried on national cable channels including ESPN and USA, and some contests were featured on broadcast network CBS. An MISL-based video game was even sold for the Commodore 64 system.
After beginning with six teams in 1978, the MISL grew to as many as 14 in a single season. When the NASL folded in 1984, it left the MISL as the highest level of soccer in the United States for the next eight years.
But for every franchise which regularly drew crowds in excess of 10,000 spectators, the league also had a team which struggled to draw 5,000 per game. The MISL lost franchises nearly every season, and the instability seemed to wear on the public.
Unable to generate much revenue from its television forays, the MISL found itself paying player salaries nearly equal to some major leagues but with revenue based almost entirely on ticket sales and sponsorhips. The indoor league outlasted the NASL and absorbed some of its teams, but after 14 seasons, a protracted salary war with a new indoor league ultimately spelled its demise.
My thanks to Dave Litterer, whose Year in American Soccer series forms the backbone of the history section, Tom Hefner and Doug Rawlinson, who helped locate logos, Downing Bethune, who contributed most of the photos and several supplemental materials, and Sydney Nusinov, who supplied statistical research.