1979-80 MISL Season
By Dave Litterer of The US Soccer History Archives, with supplemental materials by Steve Holroyd and Paul Reeths
The MISL opened its second season playing a 32 game schedule with 10 teams in two divisions. Although Cincinnati had folded, the league added Buffalo, Hartford, Wichita, Detroit and St. Louis to its lineup. While there were no rule changes, the MISL now required 12 of each side's 16-man roster to be "American," although that designation still included Canadians and resident aliens. Over 18,000 fans attended the St. Louis club's opener, and attendance was up all around the league, which finished with an average of 6,102 per game. Ironically, the league began to draw more attention for its theatrics--introductions of players through clouds of dry ice, eight-foot tall mascots, and music accompanying the action on the field, to name a few--than for the quality of the play on the field, which was vastly improved. While the MISL took much heat over the off-field theatrics, these tactics would later be adopted by teams in "major" sports like hockey and basketball, and with great success. The other notable off-field activity involved the MISL's contract with a cable television network, airing selected games to over 5 million viewers in 47 states.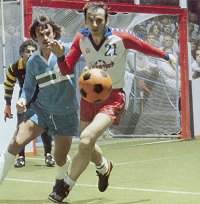 On the field, the defending champion New York Arrows picked up where it left off, going unbeaten at home en route to a 27-5 record and easy capture of the Atlantic Division title. The Pittsburgh Spirit, after starting 5-10, sacked its coach and tabbed Len Bilous, who had coached Cincinnati the year before, as his replacement. Bilous promptly led his team on a record 13-game winning streak before dropping the last four games to finish behind New York. In the Central Division, Houston--led by Kai Haaskivi, Ian Anderson, and the goalkeeping tandem of Sepp Gantenhammer and Mick Poole--compiled a 20-12 mark to finish four games ahead of the runner-up Wichita Wings. St. Louis, using a squad of local pros like Steve Pecher, Dan Counce and ex-Atom Tom Galati, captured the imagination of the city's fans, drawing over 13,000 a game despite finishing with a lackluster 12-20 record. While St. Louis was providing a model for other clubs to follow, Philadelphia essentially abandoned the formula that had made it so successful at the gate one year earlier. An agreement with the NASL's Philadelphia Fury, while providing the Fever with ex-Atoms Bob Rigby and Bobby Smith, also loaded the club with Yugoslavians at the expense of local players. As a result, the bloom wore off the 8,000 plus crowds at the Spectrum, never to return.
The playoffs found the second and third place finishers in each division facing each other in the semifinals, with Wichita and Pittsburgh edging their opponents to meet Houston and New York, respectively, in the division finals. While Houston squeaked by the Wings to advance to the championship, New York easily swept Pittsburgh. In the championship, the Arrows' Steve Zungul scored three goals--at the time, he had netted hat tricks in each of the 6 playoff matches he had played over the two seasons--to enable New York to repeat as champions before 8,469 at the Nassau Coliseum in Long Island, New York. With the championship now determined in a one-game final, the pressure was on New York to play a mistake-free game against the tenacious Houston club. Houston struck first, on a goal by defender Ian Anderson, but a power-play goal by Zungul, and another goal off a beautiful run by Damir Sutevski gave the defending champs the lead. The Arrows increased their lead to 4-1 on goals by Zungul and Branko Segota, but Houston battled back: goals by John Stemlau, Gerry Morielli and Dale Russell brought the club to within one, the difference being Renaldo Cila's goal 1:01 into the third quarter. However, Zungul's third goal, followed by a Julie Vee tally, put New York ahead for good. Zungul was awarded the playoff MVP award for his heroics, which complimented his season MVP award for his astounding 90 goals in 32 matches. In a scene that would be repeated several times over the history of the MISL, Zungul and linemate Branko Segota were named first team all-stars. Detroit's Pat Ercoli was the only American to crack the top scorers' list, although natives Alan Mayer (second team All-Star with Pittsburgh), Keith Van Eron (Wichita), Shep Messing (first team All-Star), and Bob Rigby (Philadelphia) were among the league's top netminders. Yankee defenders Dave D'Errico (New York) and Steve Pecher (St. Louis) earned second team All-Star berths.
Having regretted its decision to sit back and watch the MISL during its first season, the North American Soccer League announced that a full indoor league would be played by its clubs in the winter of 1979-80. NASL Commissioner Phil Woosnam offered, "We pioneered indoor soccer in this country--it's a natural compliment to the outdoor version," as a justification for the foray. However, only 10 of the NASL's 24 clubs participated, with marquee franchises New York, Washington and Vancouver taking a pass. Also, as opposed to the MISL, the older league only required that five of each team's 14-man roster be North American. The initial NASL indoor season saw the 10 clubs divided into two divisions and playing a 12 game schedule under, ironically, MISL rules. As with the MISL, figures at the gate were encouraging. The Memphis Rogues, who averaged a paltry 7,137 fans per game outdoors in 1979, routinely packed its arena with crowds of 8,300 or more for its indoor matches. Similarly, Atlanta also drew more indoors than out. Minnesota drew crowds of over 10,000 for its matches, while Tampa Bay continued to sell out its tiny arena. Other clubs did not draw as well, though, and the California teams fared dismally. Ft. Lauderdale could only manage about 2,300 per game, and the Detroit Express were regularly outdrawn by its cross-town rival, the MISL's Lightning. All told, the league averaged 4,869 per game throughout its 60 matches.
The season saw the Atlanta Chiefs, on the strength of leading scorer David Byrne's play and the acrobatic goalkeeping of 20-year old Victor Nogueira, take the Eastern Division title over Tampa Bay and Detroit, while Memphis edged Minnesota and Tulsa for the Western Division crown. The preliminary round of the playoffs saw Tampa Bay crush Detroit, and Minnesota edge Tulsa. Tampa Bay then swept Atlanta to advance to the finals, where it faced Memphis for the title. Memphis edged the Rowdies in the first game, but Tampa Bay rallied to take the second game and force a "mini-game" playoff. This 15 minute "game," immediately following the second match, found Peter Anderson drive a Wes McLeod rebound past Rogues' keeper John Houska to give the Rowdies a 1-0 win and the title, in spite of being outshot in the mini-game, 28-9.
Even with these two circuits in session, another peep was heard in the soccer wilderness when the American Soccer League announced that it, too, would enter the indoor wars. While originally planning on playing a full schedule in the winter of 1979-80, the league later postponed these plans to the next year. Ultimately, like so many of the ASL's grand schemes outdoors, this plan never came to fruition, and the MISL and NASL would remain the only indoor combatants in what was shaping up as a rather nasty battle.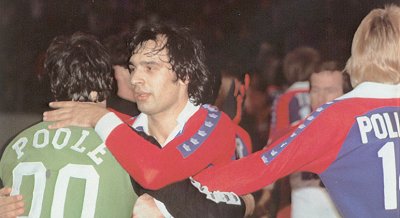 1979-80 SEASON

ATLANTIC DIVISION

G

W

L

GF

GA

GB

Pct.

New York Arrows

32

27

5

296

175

--

.844

Pittsburgh Spirit

32

18

14

188

191

9

.563

Buffalo Stallions

32

17

15

172

197

10

.531

Philadelphia Fever

32

17

15

201

197

10

.531

Hartford Hellions

32

6

26

151

240

21

.188

CENTRAL DIVISION

Houston Summit Soccer

32

20

12

181

160

--

.625

Wichita Wings

32

16

16

187

173

4

.500

Detroit Lightning

32

15

17

192

201

5

.469

St. Louis Steamer

32

12

20

177

184

8

.375

Cleveland Force

32

12

20

152

179

8

.375
/r/n
1st Round
Wichita defeated Detroit 6-5
Pittsburgh defeated Buffalo 5-3
Semifinals
New York defeated Pittsburgh 5-3, 11-3
Houston defeated Wichita 5-4 (OT), 4-3
Championship
New York defeated Houston 7-4
Before the season, Buffalo, Hartford, Wichita, Detroit and St. Louis were added.
After the season, Pittsburgh suspended operations for one year.
All-Star Game:  Central Division defeated Atlantic Division 9-4.  
(At St. Louis, att: 16,892.  MVP = Pat Ercoli)

Leading Scorers                GP   G   A   TP

Steve Zungul, New York         32  90  46  136
Fred Grgurev, New York         31  64  40  104
Kai Haaskivi, Houston          27  51  36   87
Branko Segota, New York        31  55  31   86
Pat Ercoli, Detroit            32  44  24   68
Lubo Petrovic, Buffalo         31  46  21   67
Graham Pyle, Pittsburgh        31  37  28   65
Julie Veee, New York           26  29  35   64
Damir Sulevski, New York       30  32  26   58
Jim Ryan, Wichita              29  26  29   55
Steve Buttle, Pittsburgh       28  35  17   52
Clyde Best, Cleveland          30  33  16   49
John Stremlau, Houston         32  23  25   48
Dave MacWilliams, Philadelphia 30  25  23   48
Dale Russell, New York         32  26  19   47
Manny Cuenca, St. Louis        31  27  20   47

LEADING GOALKEEPERS   (Min. 900 minutes to qualify)

                             GP   Min. Shts Svs  GA   W-L  GAA
Sepp Gantenhammer, Houston   14   801  555  209  59   8-5  4.42
Alan Mayer, Pittsburgh       17   952  758  310  77  13-4  4.85
Cliff Brown, Cleveland       28  1130 1002  377  95  8-10  5.04
Keith van Eron, Wichita      20  1050  805  338  89  10-8  5.09
Paul Turin, St. Louis        18   932  684  245  80  6-10  5.15
Shep Messing, New York       32  1754 1393  573 151  15-5  5.17
Mick Poole, Houston          20  1124  906  341  99  12-7  5.29
Scott Manning, Buffalo       25  1009  762  306  98   8-6  5.82
Chris Turner, Detroit        31  1716 1265  496 175  15-1  6.12
Jim May, Buffalo             21   844  662  281  88   8-8  6.25

Most Valuable Player:  Steve Zungul, New York Arrows
Coach of the Year:  (Tie) Len Bilous, Pittsburgh Spirit, Pat McBride, St. Louis Steamers
MISL Scoring Champion:  Steve Zungul, New York Arrows
MISL Pass Master (most Assists):  Steve Zungul, New York Arrows
Goalkeeper of the Year:  Sepp Gantenhammer, Houston Summit Soccer
Rookie of the Year:  Jim Sinclair, Buffalo Stallions
Championship Series Player of the Year:  Steve Zungul, New York Arrows

All-MISL team:

G - Shep Messing, New York Arrows
D - Kai Haaskivi, Houston Summit Soccer
D - Branko Segota, New York Arrows
M - Steve Zungul, New York Arrows
F - Ian Anderson, Buffalo Stallions
F - Flemming Lund, Detroit Lightning