1990-91 MSL Season
By Dave Litterer of The US Soccer History Archives, with supplemental materials by Steve Holroyd and Paul Reeths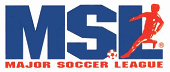 The MISL changed its name to the Major Soccer League before the start of the 1990-1991 season. For the first time in a number of years, the MSL returned the same teams for the new season. The MSL retained its 52-game schedule, the most arduous calendar ever seen in US professional soccer, matched only by the original ASL during the mid-1920's. The major surprises this year were the resurgance of the Cleveland Crunch in their second season, to take the eastern Division title, and the crash of two-time divisional champs Baltimore. Despite the stability in the franchise lineup, continuing financial woes plagued the league, leading to greater concern about the viability of a number of franchises.
The MSL continued its successful tour of Europe, with the Baltimore Blast defeating Oldham Athletic, an English 2nd division team, by a whopping 6-1. Perennial overachiever St. Louis won the FIFA-sponsored New Year's Indoor Tournament in Zurich, Switzerland. St. Louis became the first American team ever to complete in this tournament, now in its 10th year, and finished with a 4-1-1 record, as well as the Champion's Cup. The league also launched its new two-year television contract with SportsChannel and a Sunday game of the Week schedule. The All-Star game was held in conjunction with the College Indoor Soccer Showcase, which was followed by the collegiate draft; 23 players active in the Showcase were among those drafted. The All-Star game itself, held February 13 in Kansas City was a high-scoring affair, going into overtime, and ultimately won by the East 9-8. Game MVP Chico Borja, tied an MSL record for scoring five points off of three goals and two assists.
The MSL playoff semifinals saw St. Louis defeat Tacoma in a see-saw battle, with St. Louis taking the first game decisively 9-2, before struggling to a 3-4 overtime loss, followed by another overwhelming 9-2 victory. Kansas City meanwhile defeated Wichita 6-0 and 9-8. In the divisional finals, division winners Cleveland and San Diego prevailed, although not without a struggle. San Diego defeated St. Louis 9-6, 5-4 (OT), 4-5, 11-4 and 7-4 in the best of seven series. Cleveland meanwhile, defeated Kansas City 7-2, 7-5, 6-7 (OT), 5-4, 4-5 (OT), 6-8, and 7-6. The championship series was won by San Diego, who took its fourth consecutive league title, in defeating Cleveland 8-4, 3-4, 6-5, 5-7, 6-1 and 8-6.
A major concern for MSL was attendance which took a noticeable drop this season, down more than 1,000 per game to a 6,566 per game average. To reduce anticipated expenses, the league voted to contract the schedule to 40 games for 1991-92, and concluded a new collective bargaining agreement with the players.
1990-91 SEASON

EASTERN DIVISION

G

W

L

GF

GA

Pct.

GB

Cleveland Crunch

52

29

23

322

280

.558

--

Kansas City Comets

52

26

26

263

283

.500

3

Baltimore Blast

52

21

31

298

315

.404

8

Wichita Wings

52

21

31

257

308

.404

8

WESTERN DIVISION

San Diego Sockers

52

34

18

302

250

.654

--

St. Louis Storm

52

32

20

320

288

.615

2

Tacoma Stars

52

25

27

254

259

.481

9

Dallas Sidekicks

52

20

32

257

294

.385

14
/r/n
Divisional Semifinals
St. Louis defeated Tacoma 9- 2, 3-4 (OT), 9-2
Kansas City defeated Wichita 6-0, 9-8
Divisional Finals
San Diego defeated St. Louis 9-6, 5- 4 (OT), 4-5, 11-4, 7-4
Cleveland defeated Kansas City 7-2, 7-5, 6-7 (OT), 5-4, 4-5 (OT), 6-8, 7-6
Championship
San Diego defeated Cleveland, 8-4, 3-4, 6-5, 5-7, 6-1, 8-6
The league changed its name to Major Soccer League in 1990.
After the season, Kansas City folded.
Leading Scorers:  
                             GP   G   A   TP
Tatu (Dallas)                51  78  66  144
Zoran Karic (Cleveland)      47  73  48  121
Preki (Tacoma)               52  68  53  121
Jan Goossens (Kansas City)   41  53  58  111
Hector Marinaro (Cleveland)  45  63  44  107
Thompson Usiyan (St. Louis)  51  64  38  102 

Leading Goalkeepers: 
                              Min   Svs  GA   GAA   W-L
Victor Noguiera (San Diego)   2828  569  206  4.37  31-16
Cris Vaccaro (Tacoma)         2685  470  208  4.65  22-22
Zoltan Toth (St. Louis)       2099  519  176  5.03  25-10
P.J. Johns (Cleveland)        2127  531  180  5.08  25-10
Kris Peat (Wichita)           2070  435  186  5.39  14-21

1st All-MSL Team:

G - Victor Nogueira, San Diego
F - Tatu, Dallas
F - Zoran Karic, Cleveland
M - Preki, St. Louis
D - Kevin Crow, San Diego
D - Fernando Clavijo, St. Louis

Most Valuable Player:  Victor Nogueira, San Diego
Coach of the Year:  Trevor Dawkins, Cleveland
MISL Scoring Champion:  Tatu, Dallas Sidekicks
MISL Pass Master (most Assists):  Tatu, Dallas Sidekicks
Defender of the Year:  Kevin Crow, San Diego
Goalkeeper of the Year:  Victor Nogueira, San Diego Sockers
Rookie of the Year:  David Banks, San Diego Sockers
Newcomer of the Year:  Paul Peschisolido, Kansas City Comets
Championship Series Player of the Year:  Ben Collins, San Diego Sockers
Championship Series Unsung Hero:  Glenn Carbonara, San Diego Sockers


Origins | 1978-79 | 1979-80 | 1980-81 | 1981-82 | 1982-83 | 1983-84 | 1984-85
1985-86 | 1986-87 | 1987-88 | 1988-89 | 1989-90 | 1990-91 | 1991-92